Outdoor Fall Décor and Planter Ideas
Outdoor Fall Décor and Planter Ideas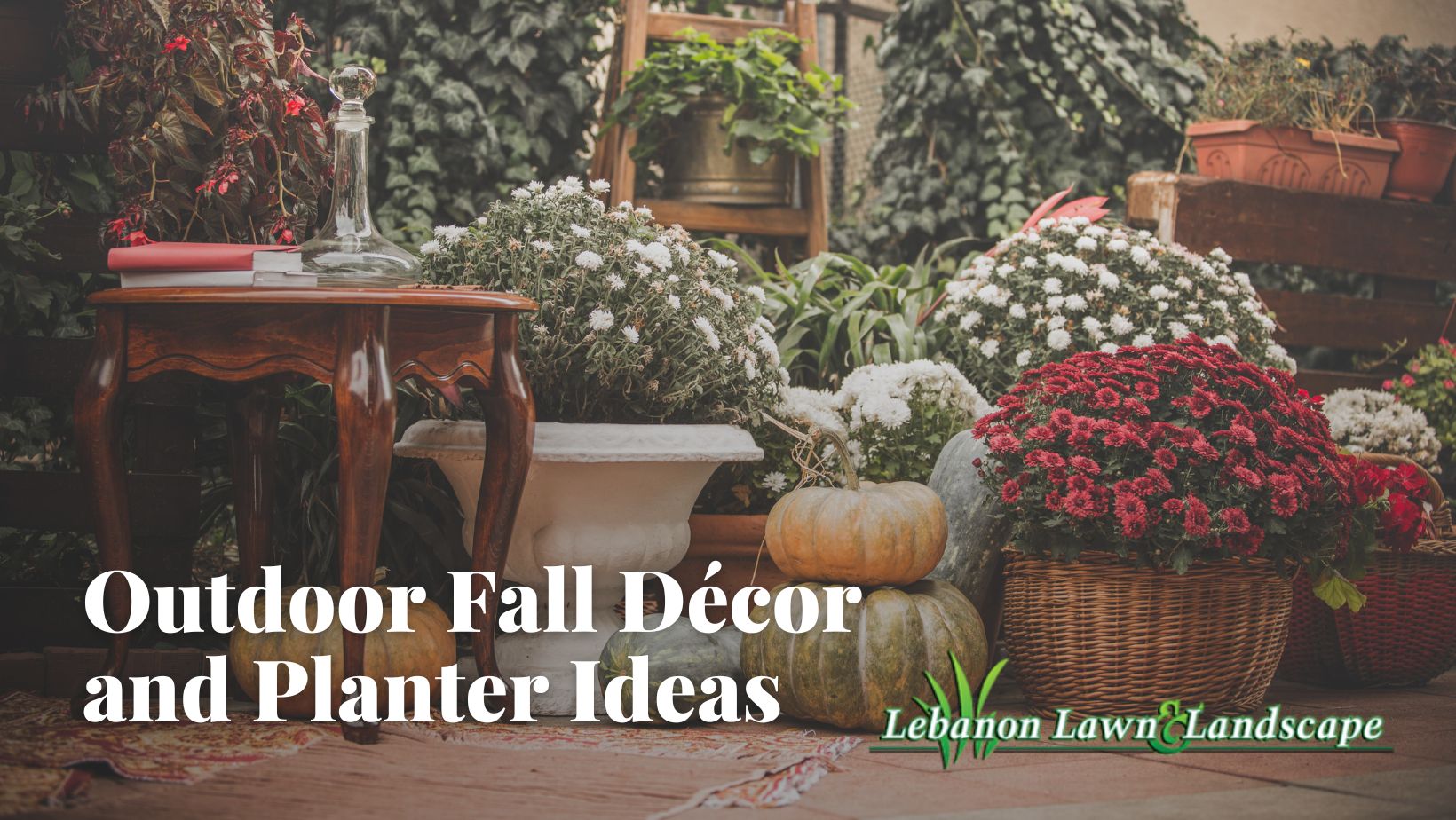 This Fall, your outdoor spaces are a canvas, paint them in your unique style. 
If you have ample outdoor space, surfaces aplenty, and more square footage than you know what to do with, then now is the perfect time to dress them in the garb of the season.  
Fall is a special time of year where changing leaves give way to changing styles and vibrant colors rule supreme.  
However, many homeowners struggle to come up with ideas for Fall décor and planters.  
Lebanon Lawn and Landscape has you covered! Keep reading for our top tips for décor and planters this Fall. 
Top Outdoor Tips This Fall 
Fall is a great time to plant beautiful spring plants and flowers. It is also a great time to address landscaping needs and install unique décor.  
Use these tips to help get the ball rolling.  
Start Your Spring Garden 
If you want a beautiful garden come Spring, the best time to start is Fall.  
Pick out the plants and flowers you want in your garden next spring and start sowing seeds and bulbs now.  
Be sure to have your seeds planted by November for the best results.  
Fall Landscaping 
Now is the time to address any end-of-year landscaping needs. Create a rich seasonal tapestry using the following tips: 
Think of the seasons ahead. What will you want come spring? Summer? Beyond? Many trees, shrubs, and landscape features shine in multiple seasons. For example, fire pits are useful all year round, which means the time to install one is now! 


Add some variety. Since you're already looking at seasons ahead, consider adding plants that shine in different seasons. That way your yard will have a glowing attraction all year round, and never the same draw in concurrent seasons.  


Plant Mums 
Chrysanthemums are excellent for Fall planting because they can withstand cold temperatures, and they'll come back the following year.  
Mums are available in many shapes and colors: yellow, orange, red, and more. The choice is yours!  
Mums are great for borders, mass plantings, or containers — anywhere you want vibrant colors. Mums are the ideal Fall flower, so take advantage of their short blooming season. 
Get Inspired by the Season 
Behold the bounty of the season! 
The vibrant organs of pumpkins and gourds, the deep, earthy greens of cabbage and kale, and every color in between are here to help you transform your home this Fall.  
You can also arrange straw bales, corn stalks, cattails, and dried flowers in a decorative fashion. 
Place any Fall décor on patios, and walkways to create an extra splash of festive fun this Fall.  
Don't Forget About Lighting 
Lighting can make or break your home décor this Fall. 
Highlight your beautiful paver patio display with lighting. A rustic lantern can give off a gentle Autumn glow that makes your patios feel welcoming and inviting. 
In the evenings, turn on the patio light to attract eyes to your decor.  
Add candles to the front windows to give your home the look of a rustic farmhouse. Even the most modern homes can achieve the farmstead look with a few simple adjustments. 
Take Your Landscape Further with Lebanon Lawn and Landscape 
Creating the perfect Fall landscape is never easy, but Lebanon Lawn and Landscape is here to help with your Fall cleanup! We take care of leaf removal, aerating, overseeding, or trimming back shrubs and ornamental grasses. All of which lead to a better, healthier-looking yard come springtime. 
Looking for a larger upgrade? We can install patios, decks, fire pits, gazebos, shade structures, and more.  
Lebanon Lawn and Landscape is the best landscape design, hardscape design, and builds in the Cincinnati area. 
If you are ready for an upgrade to your yard, reach out to Lebanon Lawn and Landscape today!