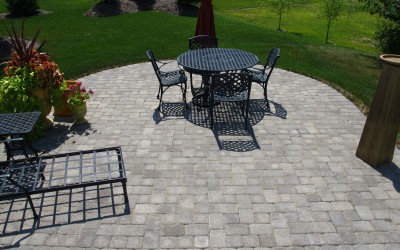 Zach St. Jean founded Lebanon Lawn & Landscape over 10 years ago while still in high school. Growing up with two parents that were entrepreneurs he knew he wanted to follow in their foot steps of making their own way and building their own business. All growing up he mowed lawns around the neighborhood and enjoyed working out doors and creating things with his hands. While just a junior in high school he realized Landscaping was truly his passion. He started the business with only an old pick up truck and a push mower with the vision that he would build a landscaping company that takes pride in their craftsmanship and quality of work, and provide the best service.
Today Lebanon Lawn & Landscape is still owned by Zach and his wife Jordan with the help of 15 other team members on staff. While the business and it's projects have grown to so much more than just lawn care, we continue to strive every day to be the best landscaping company in our area that everyone trusts.
Our Mission:
To work closely with each individual customer to provide trusted landscaping services that amplify the beauty and value of their property while exceeding all customer expectations throughout the experience.
Our Vision:
To be recognized as the area's Landscaping company that provides the best, most trusted, service that delivers the highest quality product and craftsmanship.
Our Core Values:
Quality: Whether it's trees, shrubs, hardscape design and implementation or our lawn mowing services. We guarantee our work to be of the highest quality materials, done with the end goal of longevity in mind. And always ensure a neat, clean and organized work site.
Integrity: From the first customer contact, to the proposal, execution and follow-up, we guarantee transparency, honesty, ownership and follow-up to ensure the final product exceeds our customer's expectations.
Responsiveness: From initial contact, through post project follow up, we will always focus on prompt, thorough communication and punctuality with our future, current, and past clientele via phone, electronic and social media platforms.
Hard work: We work hard and stay focused on each and every project to ensure timely completion. Our team is comprised of employees that are expected to complete each project in a timely fashion without compromising quality.
Creativity: We value creativity and fostering creativity as a company and team, we never fall back on "we've always done it this way"